If you have attended the church for six months or more and have an interest in serving, be sure to check out these areas of opportunity.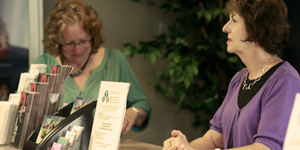 Welcome & Information Desk
If you enjoy greeting and helping others, this is a good place for you to be involved. Our Information Desk volunteers greet newcomers and regular attenders, and they also provide general information as well as information about any scheduled events. Email us at if you would like to know more.

---
Greeters & Ushers

Our greeter and usher teams are always glad to see you! Saying hello, shaking some hands, and helping people find their seats is only part of the responsibilities of this vital ministry. We like to think of them as our gate keepers. If you're interested in learning more, find an usher or email us at .
---
Sunday School & Nursery
Children are the future of our church. We take the job seriously of raising them to a full understanding of God's love for them. If you enjoy working with children and would like to help with our nursery or Sunday School programs, please contact the church office at and our Children's Minister or Youth Pastor will contact you.
If you are interested in volunteering as a teacher or helper for our MergeKids Sunday School program please click the link below and fill out the brief inquiry form.
---
Worship Team
Having a heart to express worship through singing or playing an instrument is a vital part of being involved with our worship team. If you are interested in learning more about this ministry, please fill out the worship application below and/or speak with our Worship Pastor.
---
Photo & Video Ministry
We have expanded our video and photography ministries, including Live Streaming our Sunday morning services. There are several opportunities for individuals with any level of experience to participate. If you are interested, speak with our Worship Pastor or contact the church office at .
---
Sound Ministry
The sound team is always looking for a few more people to serve as sound engineers or video projection techs to help at our church services. No experience is needed, just a willing heart; training will be provided. If interested, speak with our Worship Pastor or contact the church office at .
---
Meals Ministry
In Romans 12:13 we are encouraged to share with the Lord's people who are in need and to practice hospitality. Our meals ministry is a tangible opportunity to extend the love of Christ as you care for those recovering from medical issues, personal crisis, a loss, or have a newborn infant. In times of need, a friendly face and a meal is a true gift.
If you are interested in being part of this ministry, contact the office at or 860-648-0520.
Meal Guidelines:
Meal schedules usually last 1-2 weeks, and DINNER meals are served every other day (exceptions can apply).
We provide a complete meal and deliver it to the recipient's home.
Meals do not have to be fancy or gourmet; they can be homemade or bought. The purpose is to help someone in need by providing a helping hand, not to dazzle anyone with your culinary skills. Anything given with love is appreciated!
We try to accommodate allergies and food preferences when possible.
We strive to work out a schedule that benefits the recipient.
Volunteers are placed on a list and will be contacted when there is a need.
Disposable pans and containers are suggested.
Call the recipient to confirm delivery time and clarify dietary restrictions.